Hex-Files is Josh & Tamara - paranormal researchers and explorers investigating the unknown, odd, and high strangeness all around us. Combining technology with occult and spiritual methods (spoiler alert: it's witchcraft) we search for cryptids, ghosts, ufos, aliens, hauntings, and usually a strong drink. Join us as we share our adventures just bring your own bourbon.
Episodes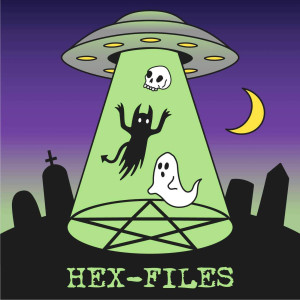 Tuesday Mar 09, 2021
Tuesday Mar 09, 2021
**This is a Patreon bonus episode that we're making public for reasons that may or may not be a trap and or scheme.**
Surprise! This is one of our favorite parts that we had to cut from ep 14 with our best frens- Nightgeist Podcast. We talk about medieval times, a sex robot restaurant, Myrtle Beach, and even Dolly Parton. Now while it all may sound unrelated, we assure you that is all very related. 


Wanna hear and see more of what you're missing? Just visit our Patreon and for as little as a $1 a month you can become a member and get access to over 60 posts! There's behind the scenes videos, bonus episodes, a super secret Facebook page, decals, and you can even participate in investigations! So head on over to Patreon.com/cursedhexfiles to support the show...with benefits. 


Also, find more of them Geists here- Nightgeist Podcast