Hex-Files is Josh & Tamara - paranormal researchers and explorers investigating the unknown, odd, and high strangeness all around us. Combining technology with occult and spiritual methods (spoiler alert: it's witchcraft) we search for cryptids, ghosts, ufos, aliens, hauntings, and usually a strong drink. Join us as we share our adventures just bring your own bourbon.
Episodes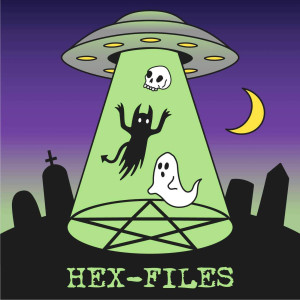 Thursday Jun 17, 2021
Thursday Jun 17, 2021
That's no moon! In fact, if you still believe the moon is real you must be watching too much tiktok. 
We're joined by Erica and Liana, the supposed humans from Nightgeist Podcast, to tell you about the moon and why it's fake and hollow. (It's also gay and protects us from the stupid mean sun). Were the moon landings fake on a real moon or real on a fake moon?! Science will never tell…but we did. 
Oh and then we fall down a literal rabbit hole, at the North Pole probably, into hollow earth facts. And you thought it was flat? Fools. 
This is part 2 of a conspiracy two parter with Nightgeist Podcast to celebrate our new collective- Nightcrawler Network! Hear part 1 here: Ep.128 Reptilian Conspiracies With Hex-Files 
It's all about reptilians and is a must hear to make sense of whatever this is. 
Also the made up contest is real enough so send us your best arts and win smol prizes maybe
**Follow @nightcrawlernetwork & @nightgeistpodcast for more truth on IG
Check out our merch here: https://linktr.ee/HexFilesPodcast
Send us an email at Hexfilespod@gmail.com to order glowing pins!
To support the show, hear bonus stories, see behind the scenes videos, and even join our private FB page-check out our Patreon.
To support the show for free please take a minute to rate and review us and subscribe wherever you listen.
Also subscribe to our YouTube to see footage from investigations.
Follow us on social media- IG/Twitter/TikTok: @hexfilespod
Art by Melissa Doody
Theme by Malleus