Hex-Files is Josh & Tamara - paranormal researchers and explorers investigating the unknown, odd, and high strangeness all around us. Combining technology with occult and spiritual methods (spoiler alert: it's witchcraft) we search for cryptids, ghosts, ufos, aliens, hauntings, and usually a strong drink. Join us as we share our adventures just bring your own bourbon.
Episodes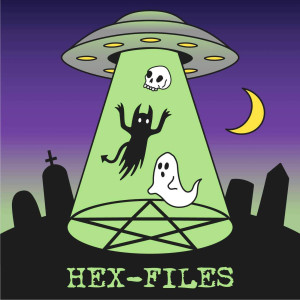 Thursday May 27, 2021
Thursday May 27, 2021
This episode is slightly different for us (and to be fair these blow both of our minds). We share some weird and strange facts that we contemplated(and googled) after seeing very rare blue fireflies. We look into the blue ghost fireflies, a lake full of stingless jellyfish, tales of glowing owls (long time listeners will remember these), glowworm's using urine traps, and also how no one knows where eels come from. 
Check out our merch here: https://linktr.ee/HexFilesPodcast
Send us an email at Hexfilespod@gmail.com to order glowing pins!
To support the show, hear bonus stories, see behind the scenes videos, and even join our private FB page-check out our Patreon.
To support the show for free please take a minute to rate and review us and subscribe wherever you listen.
Also subscribe to our YouTube to see footage from investigations.
Follow us on social media- IG/Twitter/TikTok: @hexfilespod
Art by Melissa Doody
Theme by Malleus