Hex-Files is Josh & Tamara - paranormal researchers and explorers investigating the unknown, odd, and high strangeness all around us. Combining technology with occult and spiritual methods (spoiler alert: it's witchcraft) we search for cryptids, ghosts, ufos, aliens, hauntings, and usually a strong drink. Join us as we share our adventures just bring your own bourbon.
Episodes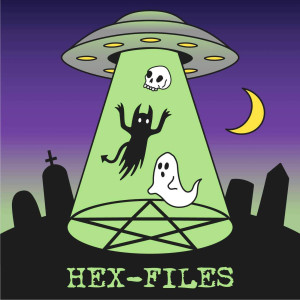 Thursday May 13, 2021
Thursday May 13, 2021
From Kentucky and with bourbon in hand, Ian joins us for a drink and a chat about his horror podcast Thirteen. Feature length, atmospheric, and spooky stories told on the thirteenth of every month. Find them wherever podcasts are heard or click here.
To support the show, hear bonus stories, see behind the scenes videos, and even join our private FB page-check out our Patreon.
To support the show for free please take a minute to rate and review us and subscribe wherever you listen.
Also subscribe to our YouTube to see footage from investigations.
Follow us on social media- IG/Twitter/TikTok: @hexfilespod
Art by Melissa Doody
Theme by Malleus