Hex-Files is Josh & Tamara - paranormal researchers and explorers investigating the unknown, odd, and high strangeness all around us. Combining technology with occult and spiritual methods (spoiler alert: it's witchcraft) we search for cryptids, ghosts, ufos, aliens, hauntings, and usually a strong drink. Join us as we share our adventures just bring your own bourbon.
Episodes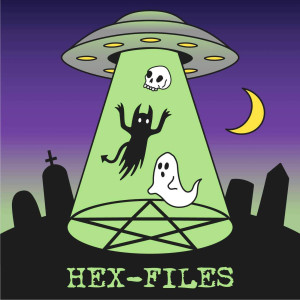 Wednesday Dec 16, 2020
Wednesday Dec 16, 2020
This is the final episode of 2020 and what better way to close out the year than to talk about our Squatchin' trip to Medoc Mountain. We got almost lost, found weird things, and even heard some possible(probable) Bigfoot calls. We certainly weren't the only thing in the woods that night...
To hear our Squatch spirit box session and support the show check out our Patreon
To support the show for free, please take a moment to rate and review us and subscribe wherever you listen- it really helps a lot. 
Subscribe and check out our Youtube for videos of investigations.
Follow us on social media- Instagram/Twitter/TikTok: @hexfilespod
Art by Melissa Doody
Theme by Malleus